How To Use Google Analytics 2021
This is an entry-level overview of Google Analytics designed to help anyone new to google analytics (or looking for a refresher). So let's get started.
What is Google Analytics?
Google Analytics is a free tool from Google that helps you gain an understanding of what people do when they visit your website. It also identifies performance issues with your website.
Two Versions: Universal and Google Analytics 4
Google Analytics Universal is the original version of the platform. In October 2020 Google launched Google Analytics 4 ("GA4") which allows for cross-platform data analytics (eg app and web) and customised reporting.
For the purposes of this guide, we'll focus on the Universal version.
Getting Started: Set up your Google Analytics
With the launch of GA4, setting up Google Analytics has become a tad more complicated and we recommend you work with your web developer to set up an account and populate the website with the GA code.
If you're a tech-savvy business owner and happy to set up the account yourself, here's a terrific tutorial from Loves Data.
When your account is up and running please ask your web developer to set the account to the GA Universal.
Why Use Google Analytics?
Google Analytics takes the guesswork out of business. Not using Google Analytics is like driving your car in the rain without windscreen wipers – you can't see where you're going. Using GA will allow you to adopt a data-driven approach to your marketing decision making.
An Example
An accommodation business might decide to invest in a banner ad campaign on a Travel website. The goal of the campaign is to drive traffic to the accommodation website and this can easily be measured in google analytics. You measure the results to see if it was successful.
The GA interface is divided into 5 standard reports
Real-Time: a snapshot of your website that allows you to track time-sensitive marketing campaigns to see how they are performing.
Audience: gives you an in-depth understanding of your visitors
Acquisition: discover how people found your website
Behaviour: learn how visitors interact with your website
Conversions: track specific actions that visitors take on your website such as making an enquiry or completing a purchase.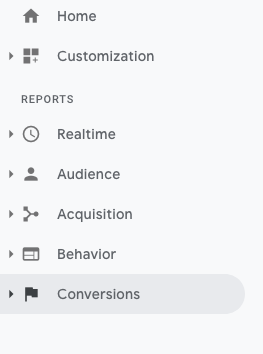 Which Top Metrics should you be monitoring?
Visitor Data
Understanding visitor behaviour is essential to your marketing success. This information is found in the Audience Report and will now you the number of visitors to your website, how many pages they visited, how long they spent on a page before completing an action such as completing a form or making a purchase.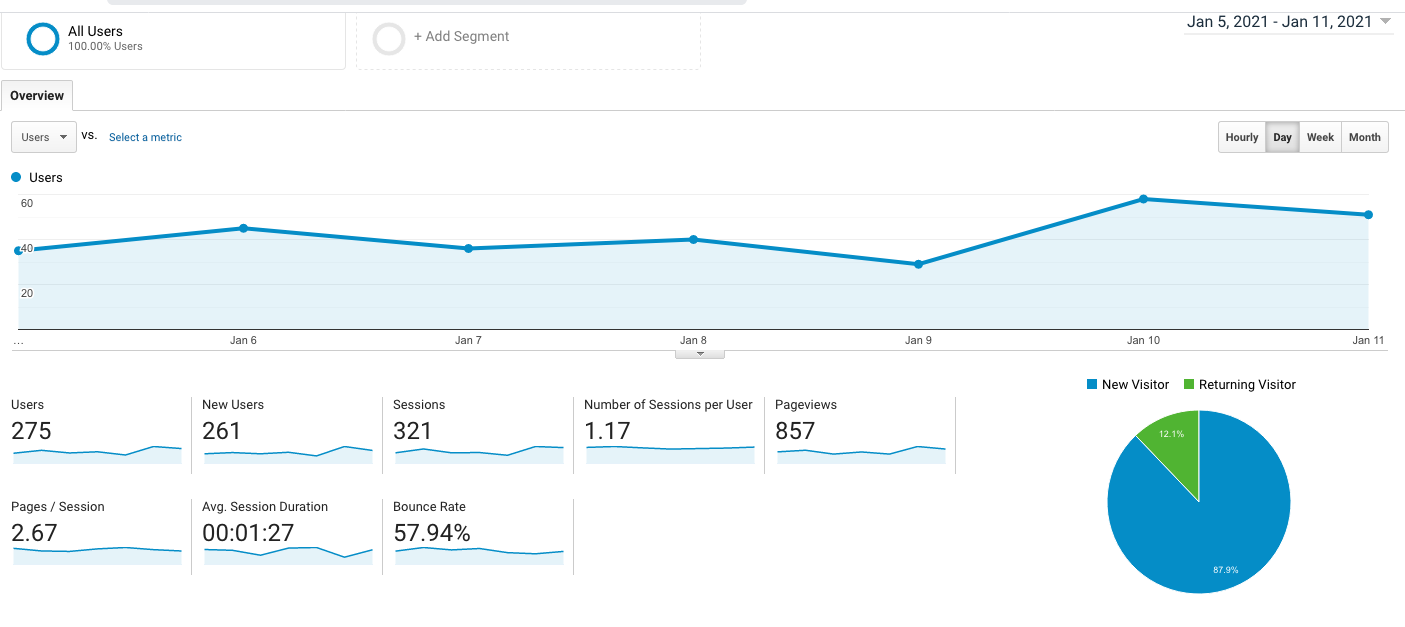 Users: how many people visited your website
New Users: how many people out of total users were new visitors to your website
Session: how many website visits (this includes multiple visits per user)
Pageviews: how many pages were visited over this period
Pages per session: the average number of pages viewed by each visitor
Session duration: how long did visitors stay on the site
Bounce Rate: the percentage of people who visited the site but navigated away from it without interaction.
Bounce Rate
What is a bounce rate?
A bounce rate is when someone visits a single page of your website and leaves. They have not interacted with your website.
Bounce Rate Metric
This easy to understand, incredibly useful metric is used to monitor the health of your:
Website
Single pages
Marketing activities
What Causes A High Bounce Rate
A high bounce rate indicates something could be wrong. A few causes include:
A slow web page
Low-quality content that does not engage
Technical error
Page has not been optimised using the page title tag and meta description
Boost Your Web Traffic
Improve website performance with our essential SEO checklist.